Announcing the Niching Spiral Homestudy (Final Beta Version):
a seven-step, refreshing, sustainable, and common sense approach to figuring out your best niche
"Give yourself 30 minutes per day, five days a week, for 90 days and I'll help you craft a solid, workable niche with lots of room to grow (even if it feels hopeless)."
Dear Friend,
I'll get right to the point.
You need help figuring out your niche and you've tried everything.
I'd like to offer you a different approach.
In this Niching Spiral Homestudy program, you'll be taken through the seven-step approach that I outline in my book The Niching Nest via a daily video and bite-sized exercise that will take you step-by-step towards your niche.
This program could be perfect for you if: 
You're a conscious entrepreneur who is just not happy with the quality and quantity of the clientele that you currently have. You know it could be so much better.
You are clear you want to be in business. This is important. For many, the bigger question isn't "Should I have a niche?" But "Should I be an entrepreneur?" Some people thrive better as an employee in a larger organization and working 9-5, or running a non-profit, or as a stay at home parent. But sometimes when people struggle for years with their niche it's a symptom of a deeper situation than just their niche. You're committed to treating your business as a business (vs a hobby).
You're a self-starter and this niching work is urgent for you to handle, not just something you're curious about.

You're doing something where there's a lot of other people in the field (e.g. massage therapist, life coach, real estate agent), and you aren't sure how to differentiate yourself. If there's a lot of competition and you need to stand out, niching can be the best way to do this.

You know niching is something you need to handle but you're feeling stuck and you're not sure why. It's not just that you have no idea what your niche is, it's that you have no clear idea on how to even go about addressing that. You're craving some very nuts and bolts, step-by-step guidance on how to figure out your niche.

You realize that a clear niche won't solve everything. A successful business relies on so many factors – niching is central but it's not everything. It's the foundation of a house. But the foundations are not the house. You know that you need savvy marketing, hustle, a business model that works, good customer service, and good business systems.
You know you need a niche and are finally ready to give this process the focus it deserves.
You've tried to figure out your niche before and it hasn't worked out for you.
You're tired of trying to figure your niche out all by yourself and are willing and excited to enlist help from friends and colleagues.
You resonate with what I've just described above.
You're willing and self-motivated enough to be able to commit at least 30 minutes per day, five days a week for 90 days.
You're willing to spend eight hours doing what's essential to get ready for the program so that you get the most out of it.
You have a Facebook account (this is basically essential as there will be a Facebook group available to support you).
This could also be perfect for you if:
You've already read The Niching Nest and feel aligned with my take on niching (or at least watched the 17-minute video below).
You're aware that niching is a process that never stops but you wouldn't mind finding a place to start.
You understand that building a sustainable business with focus and dedication takes 18 months to three years.
You're willing to give me really candid and honest feedback along the way to help me make this program better.  
This is likely not a fit if:
You are secretly hoping for a quick fix where you fill out some assessment and, 30 minutes later, you've figured out your niche.
You want to be rescued in your niching. I wish I could do that, but the truth is that niching is a process. And it's a process I believe it's important for you to know and understand. Sure, I can hand you a niche (the niche I think you should choose) and you'll be temporarily relieved but then what? What if you don't like it? I've seen people be pushed and bullied into picking niches that aren't right for them. If you want to be rescued and I indulge that then, well, it's not going to end well for either of us. But if we both play our parts and take responsibility for our ends then it could work out beautifully.
You live and do business in a small town. The broader your geographic reach, the narrower you can go. If you live in a large population centre like New York, Toronto, Vancouver, or London, you can really narrow down your niche. If you're doing online stuff and your market is the whole world, you can niche even more narrowly. Flip side: If you're living in a town of 100 people you can't afford to niche too narrow because otherwise it's like, "Hey, Bob, you're in my niche. You have to hire me." It may or may not work. When you get into really small geographic areas you will likely need to niche as a generalist.
Who am I and why did I create this program?
My name is Tad Hargrave and, after more than a decade of running my business Marketing for Hippies and working with hundreds of entrepreneurs from all around the world, I realized that the central issue at the root of 95% of their marketing woes was that they didn't have a clear, workable, profitable niche.
My Early Days in Figuring Out Niching
Early on, many of the entrepreneurs I worked with had no idea what niching even was. Although (happily) with each passing year, more and more of them have walked in the door having already encountered this idea in some other marketing course they'd taken.
Some knew what a niche was, but didn't realize that they were actually missing a clear niche themselves and that it was the reason they were struggling.

Some knew it was at the heart of their troubles in theory but I began to realize that they didn't really know what a niche actually was, what a good niche looked like, or how to get one. I also realized that I didn't know a lot about how to help people to figure their niche out. And neither did most of my colleagues.
Some knew what niching was but had given up on really settling or finding theirs. After years of trying hard but still failing to figure their niche out, they had mastered the art of utterly avoiding the issue (only to be tapped on the shoulder, none too gently, by the apathy of the marketplace and reminded how confusing and generic their business has become). Ugh. That's a hard moment.
I found that regardless of where people were in their business struggles, the one constant absence was the presence of a clear niche.
My Early Niche-Finding Experiments
The first ebook I ever created was about niching. I didn't want to create it, but I truly couldn't find anything out there that made sense to me about niching (which is, in itself, a lesson about how niching works).
In the early days, I would spend a solid hour of my weekend workshops on this idea of niching. And then a full morning. And then a full day. Finally, one weekend, we spent two days on niching. And it still wasn't enough.
For many entrepreneurs, it felt like banging their heads against a brick wall. I heard more than one person say, "I've already tried niching and it didn't work."
Workshop after workshop, I found people who were so deeply discouraged by the idea of niching. And I didn't blame them. They were lost in the woods alone with no map and no support. They were out of ideas not only on what their niche might be, but on how to even approach the issue of finding their niche in the first place.
Those who weren't discouraged yet, were terrified of niching. After all, niching means we need to narrow our focus, make choices, and stop trying to appeal to everyone. For many reasons, obvious and otherwise, this leaves many entrepreneurs in a cold sweat.
If they got past their fear, I found many clients were immediately in the overwhelm of: "Where do I even start?"
Those were the seeds of this work.
But there were other seeds too . . . 
When It Worked, It Was Like Magic
There were those beautiful moments at workshops when we would solve this issue for someone.
And it was like a switch got flipped.
Suddenly, everything was easy.
The room would come alive, ideas would start flowing, ridiculously attractive offers virtually created themselves and the questions of "where to market?" and "where do I find clients?" became immediately and blindingly obvious. The entrepreneur in question would breathe an incredible sigh of relief while beaming with excitement as the path before them became clearer than it had ever been – as if the sun had suddenly appeared and the clouds had vanished.
It might sound dramatic, but that's honestly how it was.
I wanted to help those lightbulbs go on for more entrepreneurs more often.
When It Didn't Work, It Was Devastating
But, after taking an honest look at my own process for helping people figure out their niche and what was being offered by my colleagues and peers in the market place, I began to wonder, "What if the way we are trying to help people find their niche is wrong? What if the problem is not that people are inherently resistant to the concept and process of niching or need to 'get over their fears about niching?' What if the way we are teaching niching and the processes we use are actually creating that very resistance?"
I remember leading one of my early workshops in Seattle, asking people to pick a niche for their business. In my mind, it made sense. You need a niche to successfully market so . . . just pick one. I was, of course, greeted by many a deer-in-the-headlights look, and some incredible resistance as participants stared at the blank page before them and tried to imagine what might fill it that wouldn't feel like cutting off a limb.
I remember attending a colleague's workshop where they were encouraging people to just "pick one." One lady stood up to share her niche, quite excited by what she'd come up with. She got on the microphone and shared it, only to have him say, "Nope! Not specific enough!" She sat down, totally deflated and embarrassed. She didn't say another word the rest of that workshop.
The Niching Nest eBook
How could it be that the journey of niching, for so many entrepreneurs, began in terror, moved to overwhelm and ended in discouragement?
I thought to myself, "There's got to be a better way to do this."
That was the sobering and eye-opening sentiment out of which The Niching Nest was born. My hope is that, with this book, I have brought something different to your table.  
The Niching Nest  is the result of a solid year of writing and re-writing, testing and trying out ideas, working directly with over 100 entrepreneurs, teaching these ideas in workshops and wrestling them down to the mat with the help of trusted colleagues to see if they had any worth at all.
Why is niching so hard?
People struggle with niching because they don't really understand it. They have so many misconceptions about it. And because they don't understand it, niching ends up being stressful and ineffective and therefore many people give up (and so they should).
In some ways, it's less that they struggle with niching and more that they've never actually tried niching. It would be like someone driving a tractor around a field and then, months later, wondering why they have no crops coming in. It's not that they did a bad job at farming, it's that what they did wasn't farming at all.
This is what I so often see with niching. People thinking they're doing it when what they're doing is the farthest thing from niching.
The other thing that sabotages niching is "hope."
Many people come to niching hoping for an epiphany. But, given how fickle even the best of muses throughout history have been, hoping for insight is not a very reliable strategy. It's easy to be seduced by the idea that one day you'll hit a home run and figure it all out. And it may happen that way. But making the home run your plan is part of the problem. I began to see that the frustration of "I just want to figure this out once and for all" was actually the biggest barrier for lot of entrepreneurs in figuring out their niches. I saw that what was needed more than anything was patient persistence. Not planning on home runs, but going around the bases one at a time.
When people really grasp what niching is and is not, and they have a step-by-step process that works, niching can be effective and feel good too.
IMPORTANT: This is Not a Personal Coaching Program
This program is not the same as hiring a personal coach or participating in a small group coaching program where you get a lot of personal attention from the instructor. This is a home study course. The beta version will have the benefit of my time and attention but that's not fundamentally what it is. If you'd rather have a one-on-one coaching relationship, then go here. 
Although it should be said that there is immense benefit to be gained from connecting with the others in this program as well.
What This Program Is
The Niching Spiral Homestudy Course is my best attempt to help you get your niche sorted out by breaking the process down into manageable steps.
It's my best attempt to take over a decade of hard won wisdom, over a decade of getting an increasingly refined and finessed understanding of this beast called niching, over a decade of experience in live workshops; six-week, over-the-phone coaching programs; one-on-one work; reading and grappling with colleagues around the thorny issue of niching; and translating it into something that I dearly hope will be of great use to you.
The Niching Spiral Homestudy Course is my best attempt to take the question of "How do I figure out my niche?" and answer it as conclusively as a question like this will allow, from every angle and direction I know of, using every metaphor and tool I've come across along the way.
What will your 90 days look like?
Each day, five days per week over 3 months, you'll sit down at your computer, a pad of paper, a pen and a hot cup of something delicious in hand, and you'll watch a two or three minute video that will explain the day's assignment.
It will look something like this:
Each bite-sized assignment will take no more than 30 minutes of your time while moving you solidly in the direction of clarifying your niche. Each assignment will build on the last.
In fact, to take it further, I want to ask you to spend no more than 30 minutes per day. I want you to pace yourself. Slow and steady wins the race in this. In fact I insist you take your weekends off to let things percolate. 
Next to each video you will find a pint-sized PDF worksheet or workbook that you can print off to go through that day's exercise (so it can be useful to have regular access to a printer for this course) – or you can work on it on your computer, whatever you're more comfortable with. Some days you'll get extra, optional (always useful) resources on areas where you might get stuck or might want to revisit later.
Nine Compelling Reasons to Sign Up
Compelling Reason #1: Your Own Copy of The Niching Nest
If you don't already have it, you'll get your own copy of my eBook The Niching Nest to help you understand what niching is, what niching isn't, why it matters, how my process The Niching Spiral works, and how finding your personal niche relates to larger movements for social and environmental justice.
Compelling Reason #2: Your Niching Spiral Library
In addition to the 213 pages of The Niching Nest eBook that you'll get when you sign up, you'll be getting over 40 easy-to-use, PDF workbooks with over 320 pages of exercises, all of them designed to move you step-by-step towards a niche you can be proud of that really works for you.
Compelling Reason #3: Your Private Niching Spiral Facebook Group + Monthly 90 Minute Calls
Built into this final beta version of the The Niching Spiral Homestudy program is a private Facebook group where you can connect with others who are going through the same program. You'll be able to share your wins and put out requests for support when you're stuck. There will be a monthly, 90-minute call that I will host that will be free to join in on to get my coaching and support from group members in a structured way.
Compelling Reason #4: Your Niching Spiral Case Study Vault
I am so incredibly excited to include this in the program. Nothing seems to help people wrap their minds around niching more than seeing example after real-world example. You will have access to a searchable database of over 200 real world case studies organized in two distinct and practical ways.
The first way is by a ranking of how clear the niching case studies are. Want to see niches that are a 10/10 in clarity? You'll be able to find them easily. Want to see what a 2/10 niche looks like so you can know what to avoid? Easy.
The second way this case study database is organized is by type of business. Want to see example of niches life coaches have come up with? Other permaculturists? How about what people are doing around women's empowerment? Or grief? You'll be amazed at the variety of examples.
The best part? I will never stop adding to this database and I'm finding inspiring new examples almost every day.
Compelling Reason #5: A Comprehensive, Set-You-Up-To-Win Strategy to Get You Ready for the 90 Days
Before you dig into the heavy lifting of figuring out your niche, it's important to me that you create the right space and support for your 90 days of work. You'll be guided on how to make sure you've got the proper structures in place to harvest the most value possible from the program.
Before you are asked to even think about what your niche might be, you'll be guided step-by-step to create the space and gather the support you'll need to make it happen. You'll schedule in the time to work on your niche, building yourself a niching advisory team of five people who can give you support in honing your niche, who can ask you good questions and share their thoughts on where you're headed.
You'll also be encouraged to find a niching buddy, someone with whom you can work closely during the 30 days as a supporter and as a witness.
With these things in place you'll be set up for success.
Compelling Reason #6: This Program is Designed in Two Momentum-Building Steps
Your 90 days will be divided into two parts.
Part One – Getting Started: Our goal here is to do a quick, down and dirty version of The Niching Spiral process so that you get started and don't get lost in the paralysis of analysis. In Part One, you're picking the low hanging fruit and just asking yourself, "what's most clear?" and then starting with that. I bet you'll be surprised with how much you already know (that you didn't know you knew) about your niche.
Part Two – Digging In: If Part One is broad strokes, then Part Two is where you refine and add detail. You'll be guided, step-by-step through all Seven Steps of The Niching Spiral. In Part Two, you will be:
Asked questions you may have never been asked before and guided to see connections between things you can't believe you've never seen before.
Guided in visualizations to help you discover various aspects of your niche.
Inspired by dozens of real life niches and niche project examples.
Supported by others in the private Facebook group.
Filling in simple-to-use worksheets to help you clarify your thinking on niching.
Compelling Reason #7: The Niching Spiral Explained Video
Let me tell you my whole philosophy around niching and break down my Seven-Step process in this 17 minute video below so you can make sure this program really is a fit for you and that my approach makes sense to you. This video is one that I recorded a couple of years ago and sent secretly to my colleagues to share what I'd come up with in terms of niching. I'd never intended for it to be shared publicly when I recorded it. But I think it's as clear a summary of my process as I'm likely to record and it's got some amazing jokes at the end of it (if I do say so myself).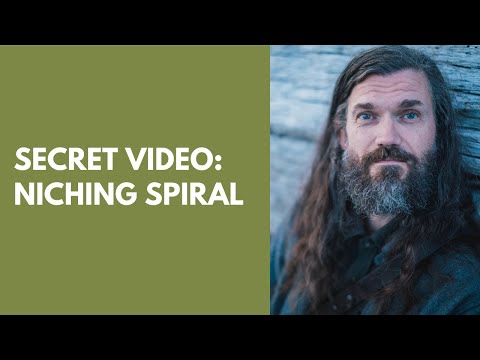 Compelling Reason #8: "The Niching Spiral Live!"
75 minutes or so of video from my first ever Live Niching Spiral Workshop to give you the 30,000 foot overview of the dynamics of niching.
Compelling Reason #9: Designed to Repeat.
This course has been developed so that you could go through it more than once. Like a good book, you might find that the second time you go through the Niching Spiral Homestudy Course you hear things you didn't hear the first time, and that the exact same exercise draws new things out of you. Plus, because I'll be monitoring your feedback so closely in this Beta version that the second time you go through it, it's guaranteed to be better than the first. 
What's the cost?
I'm only charging $200 USD for this Beta version.
I have no idea what I'll be charging for the full program once it's up, but it may be more than this and it likely won't include a single minute of my personal time.  
If you have any questions, just email me at admin (at) marketingforhippies (dot) com.
Warmest,
Tad
P.S. The second you sign up for this, you'll get a link taking you to the grounding materials. It's about an hour and half in videos and my book The Niching Nest. You'll also get access to my Niching Case Studies Vault. I'm going to ask that you go through all of that (the videos and the book in detail and to at least spend an hour delving into some of the case studies) before we get going on MONTH/DATE. 
P.P.S. More testimonials from past niching programs I've run (that I don't think are half as good as this Niching Spiral Home Study program!).
*
"Immense relief."
"Before I signed up for this program I was struggling with my ideal customer and felt confused, frustrated and anxious about it. During the program my experience was delightful. The writing exercises really pulled out of me the heart of my business. The safe, confidential feedback and opinion giving of the group was enriching and priceless. After the program was done, what I found was immense relief. I discovered my ideal customer and now I know how to speak to her. For me, the most useful part of the program was the writing, writing, writing. When you write long enough, the truth comes out. Tad was great at giving writing prompts, guidelines and due dates. Since the program I have successfully launched TheHealersDiet.com and I would attribute the Niching for Hippies program in helping me to turn my story into medicine for the right crowd. Thanks Tad!" – Carla Golden 
carlagoldenwellness.com/carla-golden-wellness-the-healers-diet
*
"Exactly what I needed."
"Before I signed up for this program I was struggling with really clarifying my niche in a way that I felt connected to and excited about. It felt like it was there but I was skirting around it and couldn't quite pin it down.
I found the course to be exactly what I needed, a process for uncovering my niche and a supportive space to share this process with others. Trying to figure out your niche can be really confusing and overwhelming as your mind gets really busy, so having a process that allowed me to step back and reconnect with myself, my journey and the impact I want to have allowed the truth to just rise to the surface.
After the program was done, what I found was I felt clearer than ever before about who I want to work with and also felt less rushed since now I wanted to just enjoy the process of business building, no matter how long it takes.
For me, the most useful part of the program was the concept of the big and small circles. As someone that doesn't like limiting herself, the concept of a big circle really works and I get the variety from the small circles. Also, breaking it down into niche projects too works with my short-term attention span and allows me to actually finish things.
Since the program the following things have happened that I would attribute to the Niching for Hippies program: I have enrolled a new personal coaching client that fitted my exact niche despite not looking and have turned away others that do not meet the criteria of where I wish to focus. I have also used it at work to create new revenue streams and it's a process I will come back to time and time again, I'm sure.
I really highly recommend this course if you are struggling to find a niche because what it will do is help you uncover it using a really comprehensive process that allows you to look back over your life and see the gifts you have that are sitting in your blindspot." – Lola Fayemi
*
"Just reading it will transform you in mysterious very deep ways."
"I would like to give a huge shout-out to Tad Hargrave.  His book, The Niching Spiral, is the most compassionate, deeply moving and profound business book I have ever read!   Just reading it will transform you in mysterious very deep ways." – Kundan Chhabra, facebook.com/breakthroughawakening